ICBC Approved Auto Body Shop In Vancouver
We offer ICBC C.A.R. SHOP VALET and any major private insurance company claims as well. We have trained and qualified paint and frame technician's that can professionally complete the work on all types of vehicles and model in Vancouver area.
LET'S KEEP IN TOUCH!
Contact us today if you need assistance with your claim, or to begin a claim. We will help you from start to finish. Whether it is a collision repair, auto body repair, windshield replacement
FREE ESTIMATE
If you've been in an accident and need help, call us and we'll walk you through what needs to be done. We'll even give you an free estimate.
ABOUT US
At Spotlite Collision, we're an ICBC accredited auto body shop that offers high-quality repairs. From certified collision repair and professional car painting to dent removal, frame repairs, and windshield replacement, you can rely on our technicians to restore your vehicle. What sets us apart from other ICBC repair shops in Vancouver? Our technicians specialize in European auto body repairs to ensure your luxury vehicle is handled correctly. If you're looking for a European auto body shop in Vancouver, you can trust our team at Spotlite Collision to provide timely, efficient, and affordable auto body work.
European Cars Autobody Repair
At Spotlite Collision, we proudly offer top-quality auto body and paint scratch repairs for all European makes and models. Our shop features specialized equipment and technology that is specifically meant for use on BMW, Mercedes Benz, Volkswagen, Volvo, Audi, Porsche, Land Rover, Jaguar, Ferrari, Lamborghini, Maserati, Bentley and Tesla model vehicles. When it comes to car paint damage removal and auto body repairs for European cars, there is no better option for Vancouver drivers than Spotlite Collision. We fully accredited with the ICBC, and our shop features a number of highly skilled auto body repair technicians with decades of experience providing quality repairs on all types of European vehicles.
There are many reasons why drivers can trust Spotlite with all major and minor auto body repairs for their European vehicles. Our technicians are constantly making use of the latest technologies and repair methods to ensure your car looks as good as new when repairs are completed. We strive to ensure all our estimates are accurate, and we will keep you well informed concerning the status of your vehicle repairs. For everything from car paint damage to major body repairs, the team at Spotlite has provided the same top quality service since 1978. In addition, we are happy to provide a number of convenient services like valet service, same day repairs and fast, onsite estimates so you can spend as little time as possible dealing with the repairs on your car.
For more information about our specialized repair services for European model vehicles, be sure to contact the friendly experts at Spotlite Collision today. We offer free estimates, and we'll be sure to get back to you in as little time as possible. Call or visit us today at our Vancouver autobody shop to get started on making your vehicle look like new!
European Cars We Service
Your car is bound to get damaged through a collision or other forms of accidents. When this occurs, you may wonder the next step to take. However, this is not the time to get confused because the more you stay before your auto body is repaired, the more the damage may get worse or face more inconveniences because you cannot drive your car.
At Spotlite collision auto body shop, we can help by doing all forms of auto body repairs of all European car models effectively. We have been in the industry for several years, so you can be sure that no damage is too big or complex for our auto body repair professionals.  Our high rating is as a result of our good reputation in the industry. In all our auto body repair services, we always strive to go beyond our clients' expectations with our high-quality work that offers 100 percent satisfaction.
Spotlite Collision specializes in auto body repair of European & imported cars like:
Volkswagen Auto Body Specialist
At Spotlite collision, we take pride in offering professional workmanship for Volkswagen auto body. We are specialists in handling different models of Volkswagen car from the old to the latest ones. Our highly qualified spray painters and panel beaters can handle your repair needs within the shortest time possible to get back you on the road. We have specialists who can assess your Volkswagen car and do repairs that make your car look new.  At Spotlite collision, we offer Volkswagen auto body repairs due to accidents, body and frame alignment, chassis straightening, panel beating, expert welding, perfect fit finish and e-sprays. Integrity and quality act as our driving motivation to enhance our client satisfaction. In case of an accident, we can restore your Volkswagen to its original sparkling condition. If you want to respray or restore your car to its brand new appearance, we have the expertise and capacity to help.
Porsche Paint Touch-Ups
At Spotlite collision, we offer the best Porsche paint touch-ups with three easy steps – paint, blend and polish.  Our paint touch-ups process is the most effective and easiest to give your Porsche its original look after an accident or collision. We are tested and certified so that you can expect unique paint touch-ups from us. We apply colours matching all models and makes including your Porsche. We aim to provide professional, seamless results with our high-standard blending and polishing solutions at our auto body shop.  We provide tailor-made Porsche paint kits to match the exact look of your car. Our painters give your car its original look fast and efficiently. Typically, we supply same day Porsche paint touch-ups, so you get back on the road fast and help avoid inconveniences. We also apply paint that gives your car full protection against all long term damages and rust.
BMW Collision Repairs
Spotlite collision offers the best BMW collision repairs solution in Vancouver. After a collision, different parts of your BMW may get damaged, but no need to worry because our highly trained specialists can handle any form of repair to any part of your car.  We can help perform exceptional alloy wheel repair. Our professionals help get rid of all traces with our highly innovative putty that offer unique results. Besides, we can also fix scratches and dents in your BMW wheels. In case of more severe structural damage, our experts may recommend replacing the wheel. At Spotlite collision, we also perform both interior and exterior car detailing. This is the easiest way we make your BMW restore its new look after a crash or any other form of accidents. Other parts that are prone to damage after a collision are the glasses and windshield. We can help repair or replace them when necessary. Our specially trained and accredited technicians examine your BMW glass and window damage and perform customized repairs within a short time. We offer timely repair work that prevents your glasses and windshield from cracking and retain your BMW value.  Spotlite collision is also popular for providing BMW dent repair to restore its perfect look.  Our auto body shop use latest and innovative methods, to make the dents and dings disappear. To maintain your BMW value and appearance, please get in touch with us and be guaranteed of exceptional results.
Mercedes Benz Auto Body Repairs
When your Mercedes Benz gets damaged, we can provide you with the best repair services. From the smallest to major collision, our specialists are dedicated to working closely with you to provide the highest quality Mercedes Benz auto body repairs. At Spotlite collision, we offer free computerized estimates, professional paint finishing and color matching, towing services and quality control inspection after we are done with the repair work. We use genuine parts to help maintain a great fit and high-quality standards of your Mercedes Benz. Besides, our auto body shop use approved paints, tools, parts and Mercedes Benz certified chassis alignment system.  Our specialists perform all Mercedes Benz Auto body repairs with the utmost care, precision and commitment.
Our Lifetime Warranty
Customer satisfaction is top priority at Spotlite Collision. We want our customers to leave our auto body shop in Vancouver feeling confident about the state of their vehicle. To demonstrate our commitment to conducting high quality, reliable repairs, we offer one of the most comprehensive warranties in the industry. Our extensive lifetime warranty covers labour and materials for as long as the vehicle is register under the same name. Whether you come in for a windshield replacement, paint refinishing, or collision auto body repair, our team wants you to have the peace of mind you deserve.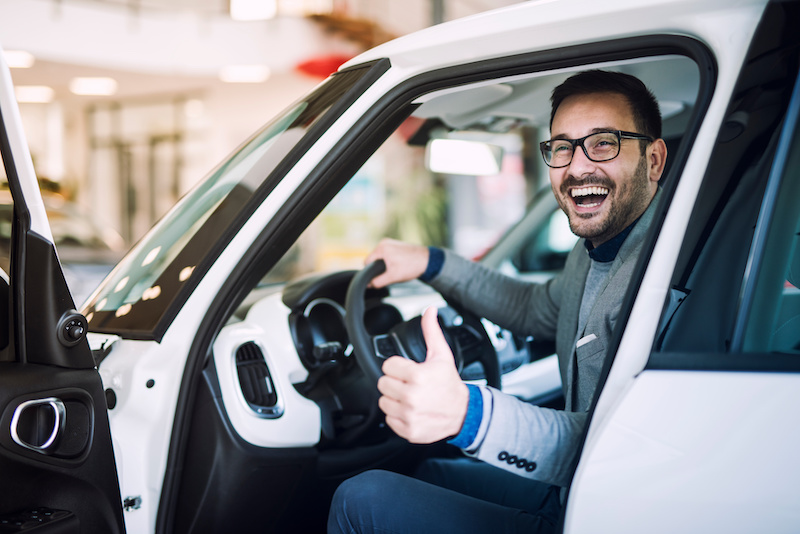 Collision Repair Process
At Spotlite Collision, we have a thorough repair process to guarantee the best results for our customers. As an ICBC accredited auto body shop in Vancouver, we understand the importance of offering repairs that are high quality, affordable, and streamlined. What sets us apart from other ICBC repair shops? Our technicians specialize in European auto body repair. So when you choose Spotlite Collision, you gain the peace of mind knowing your luxury vehicle is being handled correctly.
1. Free Estimate
As an ICBC accredited auto body shop in Vancouver, we help you with every step of the repair process. Every collision repair at our shop begins with a free estimate. After conducting a thorough inspection of your vehicle, we will assist you with filling out all the necessary paperwork and provide an estimation of the repair cost. We will also take photos of the damage to include with the ICBC claims and forward all relevant documentation to both you and your insurance provider.
2. Disassembly
Before the repair begins, your insurance provider can request a teardown of the vehicle to ensure all damages are accurately documented. After both you and your insurance company authorize the repairs, our auto body shop in Vancouver will order the necessary parts and get to work.
3. Repair
To ensure your repairs are done according to factory specifications, our technicians use an electronic measuring system to analyze the framework of the auto body. This guarantees that the vehicle's frame remains structurally sound throughout the collision repair. As specialists in European auto body work, our technicians will replace the exterior panels, metal finishing, and glass to meet the luxury standard.
4. Paint
When it comes to painting, our team has extensive training and expertise. To give your vehicle that clean, smooth, and seamless appearance, our technicians will prep your vehicle for painting by sanding all surfaces.  To guarantee an exact colour match, our auto body shop in Vancouver keeps an extensive database of colour formulations. Once a perfect match is found, we will use our computerized paint mixing system, adding various hardening agents and flex additives to give the paint a longer wear. After applying the paint, sealant, and topcoat, we will "bake" the finish onto the auto body in our state-of-the-art painting booth.
5. Reassembly and Refinishing
To conclude the collision repair process, all of the finishings such as final moldings and detail pieces, are put back on the vehicle. Officially restored to its pre-collision condition, the car is nearly ready for delivery.
6. Detailing and Quality Control Inspection
We want your vehicle to be in perfect, like-new condition. To remove any dirt or dust that accumulated throughout the repair process, our technicians will detail your vehicle prior to delivery. We will also arrange for it to be professionally inspected to ensure that it has been repaired to the highest level.
7. Delivery
As the most trusted European auto body shop in Vancouver, we will assist you till the very end. When you come in to pick up your vehicle, we will walk you through all the remaining paperwork, including the final steps of any ICBC claims as well as the repair bill. With the peace of mind our lifetime warranty brings, you can claim your vehicle knowing it has been restored to its pre-collision condition.
Our Experience & Knowledge
At Spotlite Collision, we're an ICBC accredited auto body shop that has the experience and knowledge to conduct high quality repairs. From certified collision repair and professional car painting to dent removal, frame repairs, and windshield replacement, you can rely on our technicians to restore your luxury vehicle the right way. Our auto body shop in Vancouver:
– Specializes in European auto body painting and repairs;
– Works with all insurance providers;
– Is an ICBC accredited auto body shop;
– Hosts an ICBC express valet shop;
– Provides free estimates;
– Conducts automotive repairs and refinishing;
– Offers OEM-certified collision repair;
– Offers high-quality repairs using aftermarket parts;
– Offers lifetime warranties on all completed works;
– Provides auto glass and windshield replacement
– Uses environmentally friendly and sustainable practices.